I am trying to delete a resume but it says its attached to a workshop
---
Problem: I am trying to delete a resume for a candidate but I get an popup message saying the resume is attached to a signup, what does this mean and how can I delete the resume?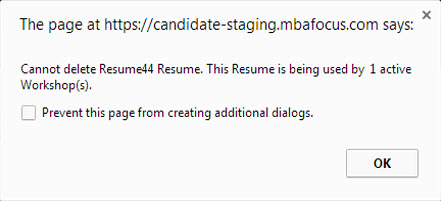 Resolution: When a candidate signs up for a workshop, mock interview, advising appointment, or a company event, the system records an identifier for that resume (known as a Resume ID internally) for the candidate signup. If you attempt to delete the particular resume, you be shown a popup message telling you the resume_id is attached to a workshop, appointment, event, etc. This is because the delete function will not delete the resume if it is used by other modules in the system, those modules have code in place to reference the resume_id in order to validate the candidate signup.
Therefore, in order to delete the resume, you need to delete the candidate signup(s) attached to the resume. For example, if a candidate signed up for three workshops with the same resume, you would need to delete the candidates' signup from each workshop.
Note: Advising appointments and workshops allow the freedom to: disable resume uploads, make resume uploads optional, or make them required. If they are set to make resume uploads required or optional, the candidate will be able to choose which resume to submit However, mock interviews and events automatically record the candidates default resume if they have a resume uploaded.
 *Outdated/Migrate*
---
Article ID: 849
Created On: Nov 11, 2013 at 5:22 PM
Last Updated On: Aug 23, 2022 at 2:44 PM
Authored by: KB Admin
Online URL: https://kb.mbafocus.com/article.php?id=849