To access in admin go to Events & Interviews > Room Reservation Settings 
*Note: Events & Interviews is often named On-Campus Recruiting or On-Campus Interviewing in other systems

From the Settings tab: Enter administrator address, the maximum number of rooms you'd like to allow per recruiter and per organization daily, if you'd like to require approval and the number of unpaid lag days you'd like to allow > Save.
*Note: Unpaid lag days means "after x days the reservation will expire."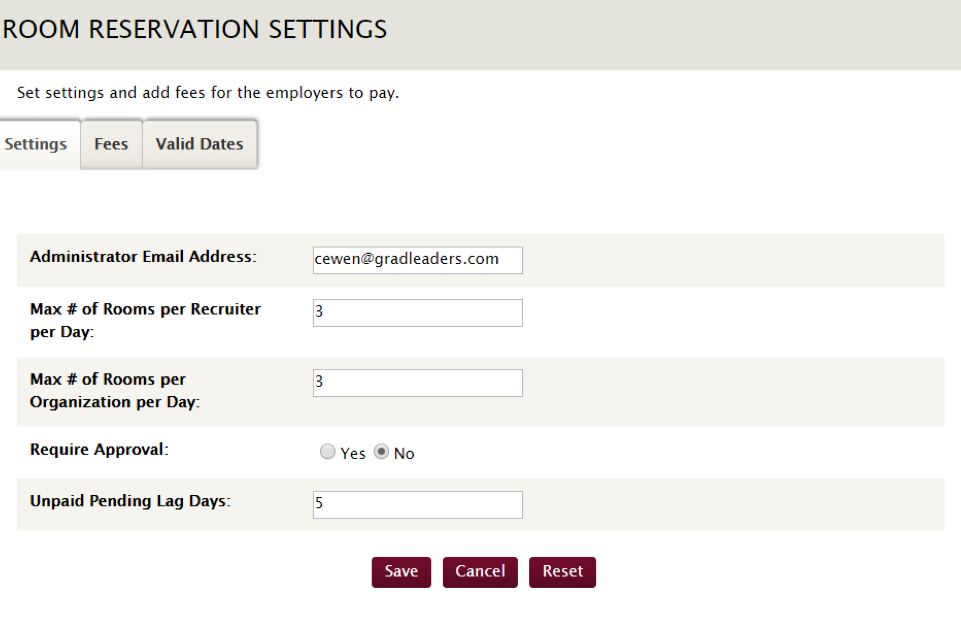 From the Fees tab: Click Name and edit the Name, Description, (tier is already set up), Amount (in dollars) and Default to your preference > Save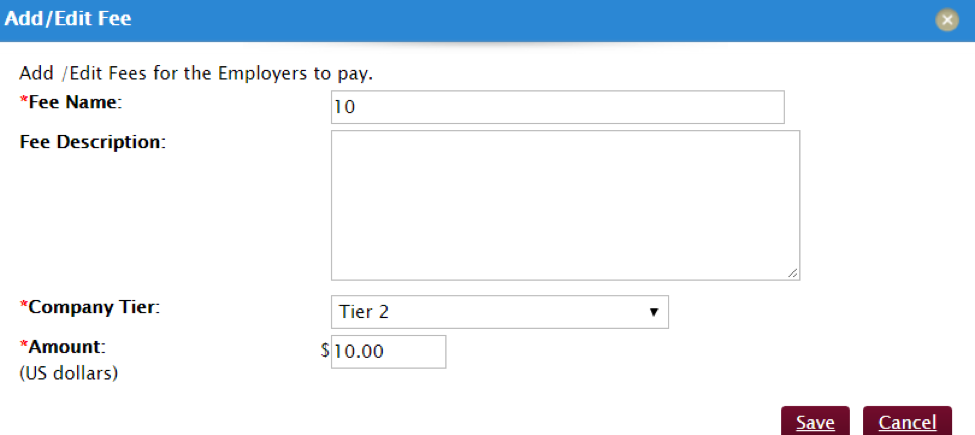 From the Valid Dates tab, click the calendar icon and the time drop down menu to indicate start and end dates and times > Save Dates. You can click the star icon to make selected dates active, the pencil to edit existing Date settings or the trash can to delete.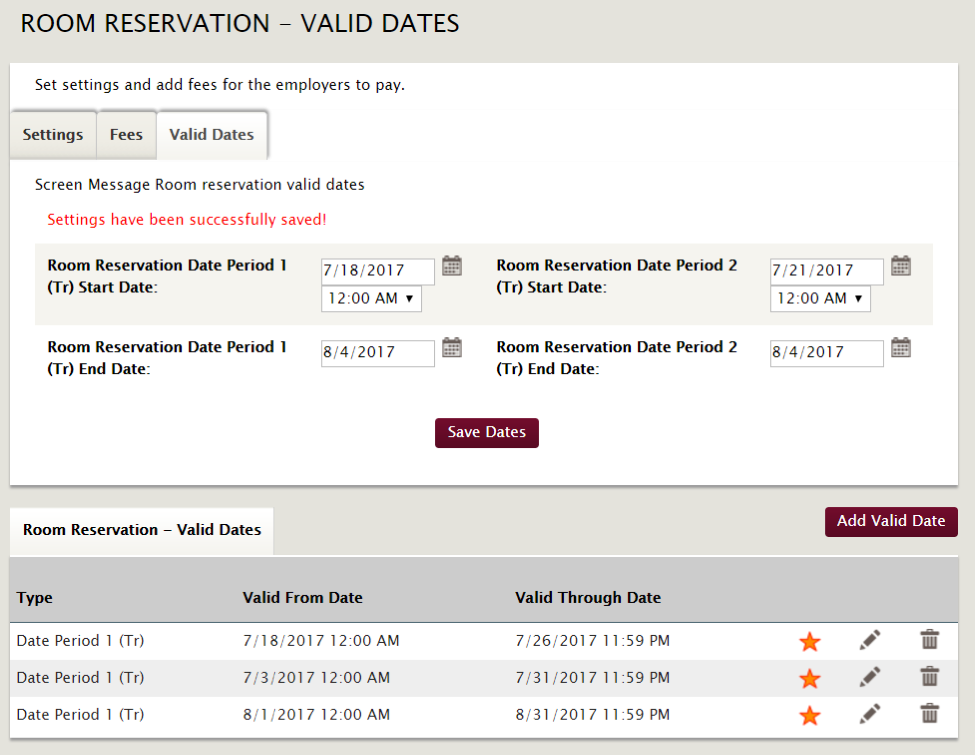 From the Room Reservation File, you can:
Search for company reservations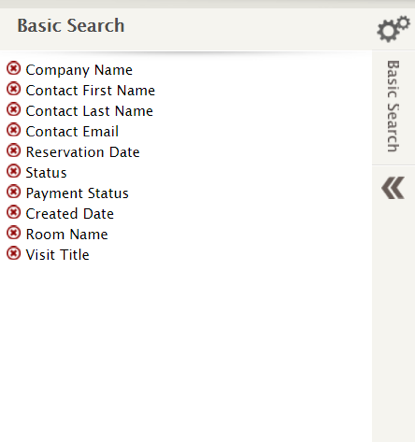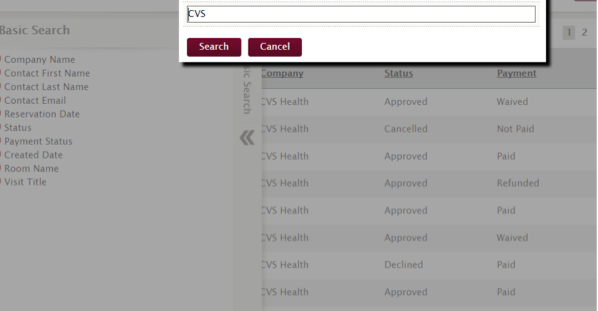 View the status of reservations (Approved, Declined or Pending)

Update status by clicking the drop down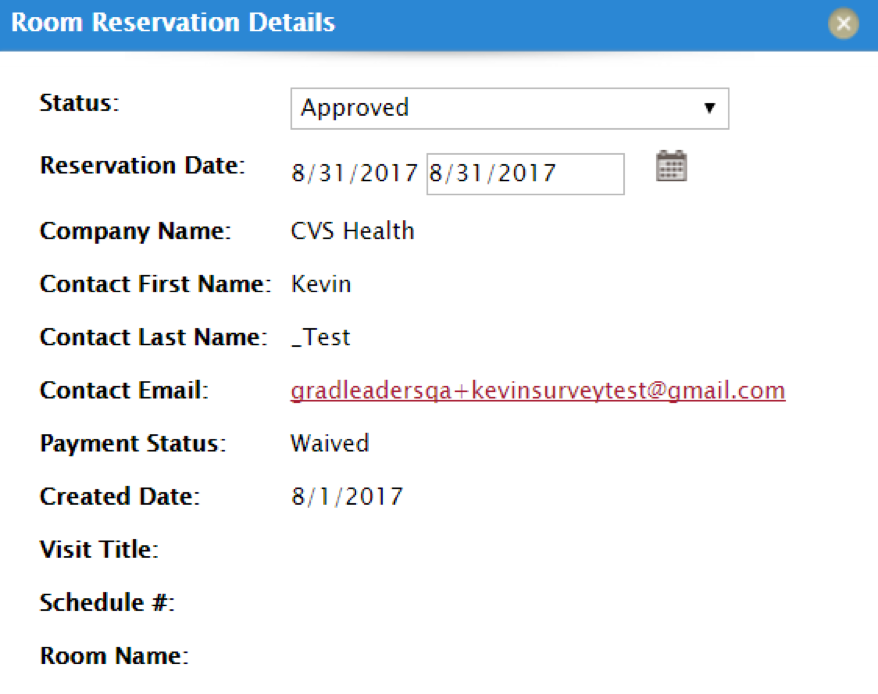 Issue Refunds by clicking the dollar icon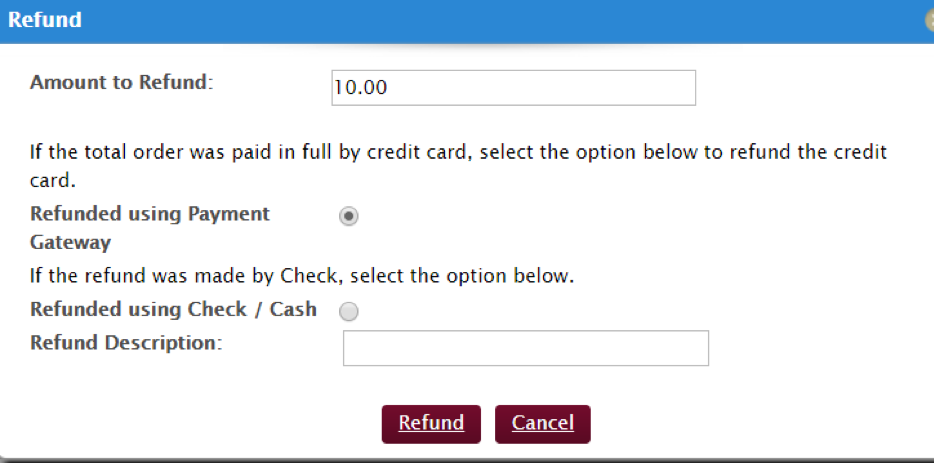 Issue invoices by clicking the PDF icon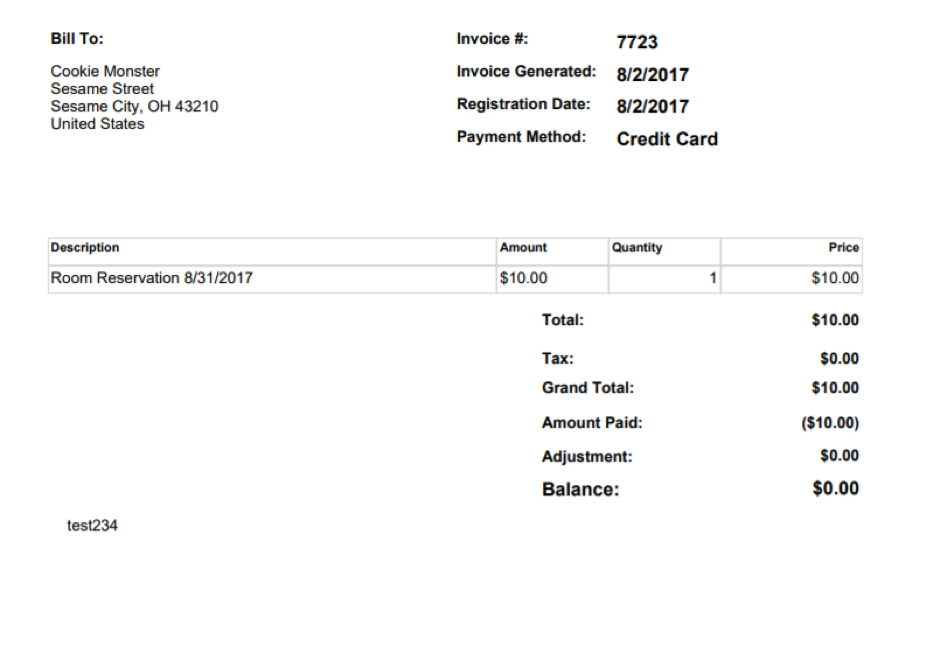 Or contact the recruiter who submitted the request by clicking the email icon.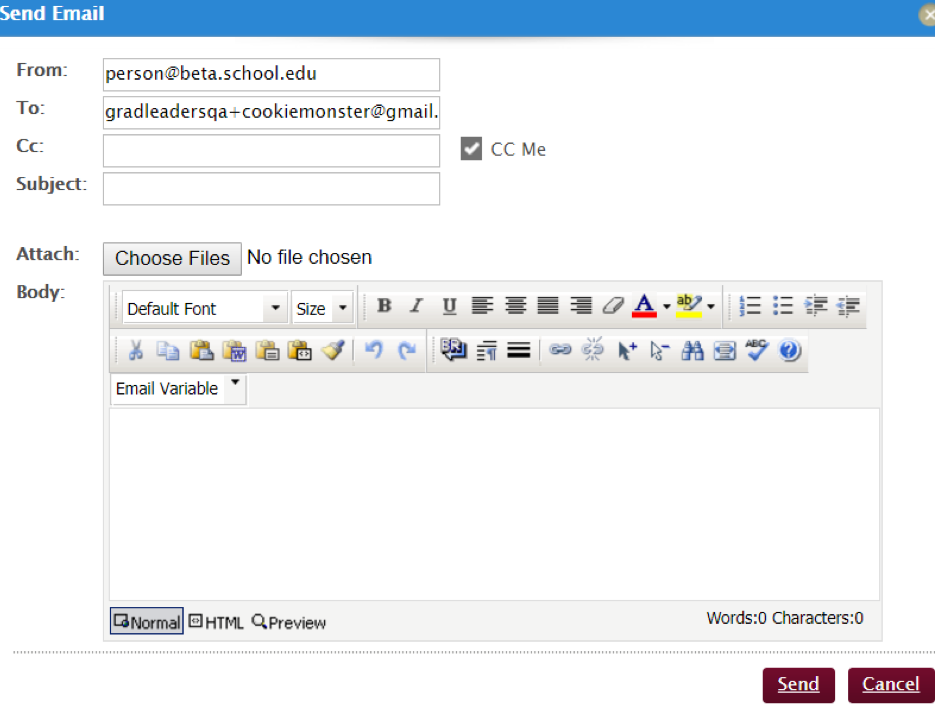 From Room Calendar you can view Interviews, Activity Calendar, Open Rooms and Number of Available and Reserved rooms at a glance, by Day Week and Month.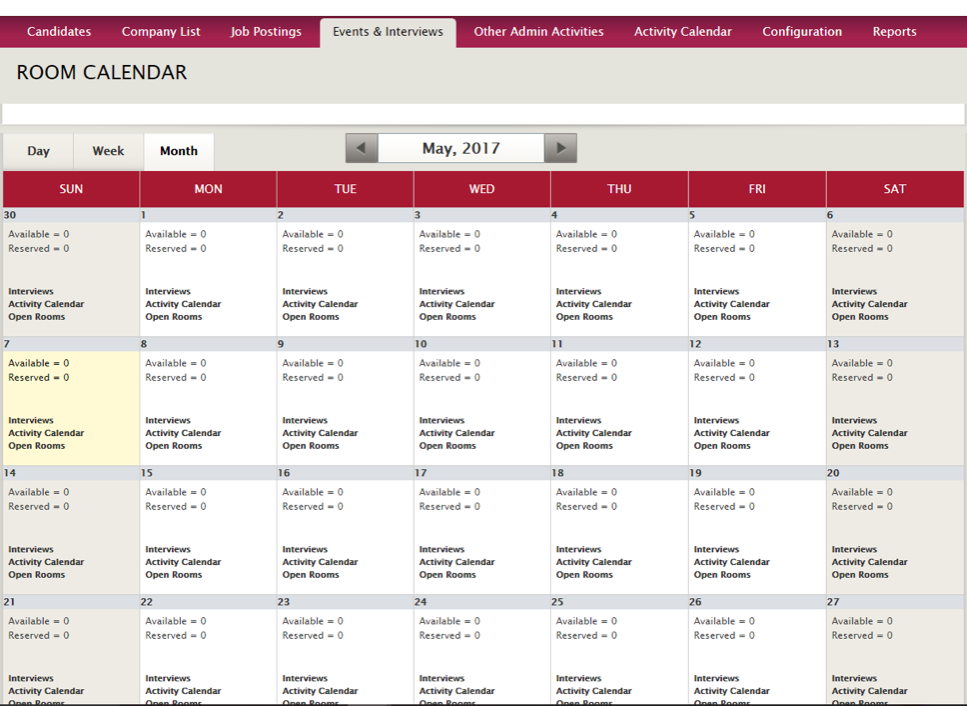 Click Interviews to view employer Visit Date (including Week), Resume Drop Due Date, Organization, Account Manager, Status Slots and if this is visible to the employer and student.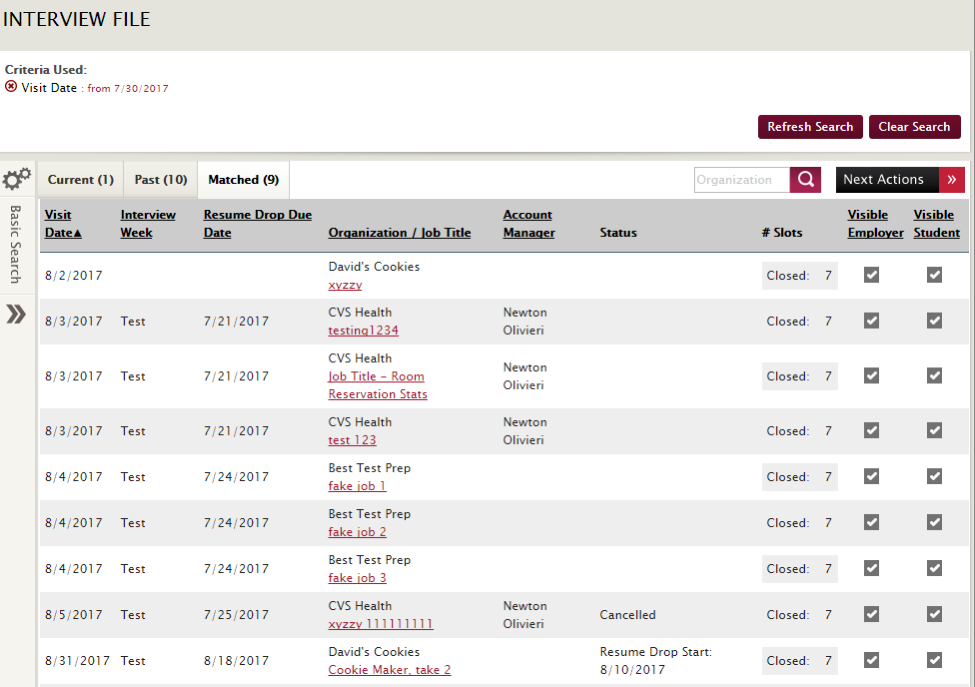 By clicking the underlined company link, you can view Visit Details and complete many actions such as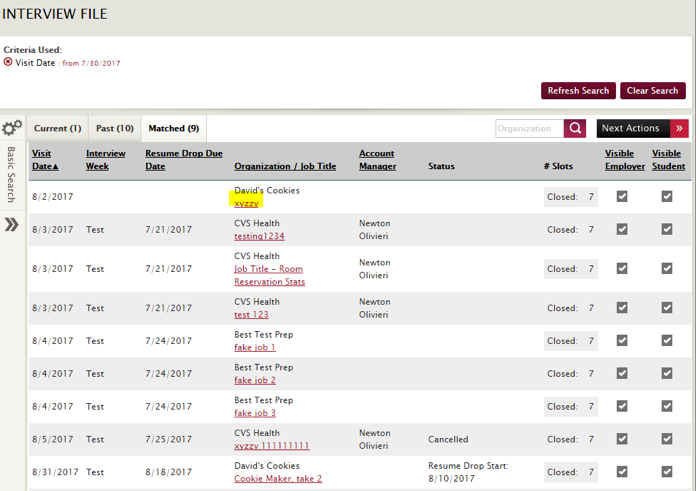 editing information, emailing employers, view requests adjust visibility and much more!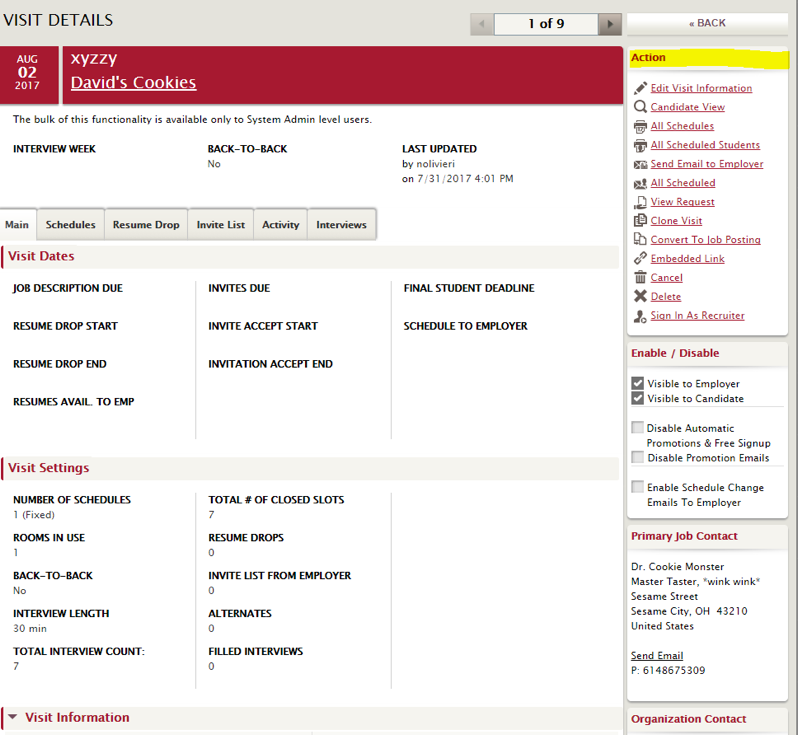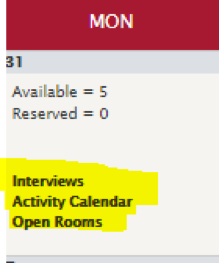 By clicking Interviews you can view the Interview File for the selected date, then from Next Actions  you have the ability to add companies, export spreadsheet lists, email all employees within that time slot, and adjust visibility to students.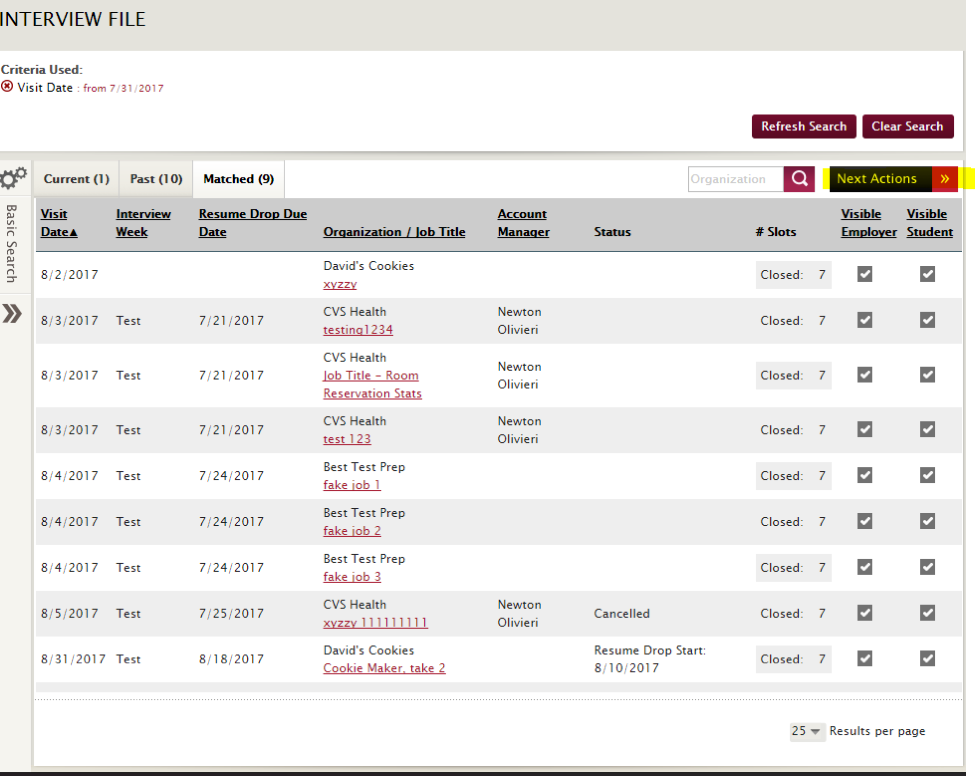 Activity Calendar shows you all companies scheduled for the selected time frame, with clickable company files for more specific employment branding information. You also have the ability to filter by degree level, classifications and activity type, or you can use the search bar.

Room Calendar enables you to viewrooms, filterable by availability, name assignment and more.

You can click into a Room Name to add usage, descriptions and more.